Ok guys with my introductory post in the books im going to dive right in and ask for assistance!! Lol
For those that may not have seen my thread on my regal over at gbodyforum i ran into an issue with my motor
It was clacking really loud. Anywho long story longer i started tearing down the top end and it was spotless. Thats when i discovered it was rebuilt ans bored .040 over.
#8 cylinder was the source of noise and i saw the pushrod looks like this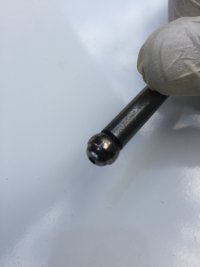 Have you guys ever saw a pushrod wear like this? What would cause that? Bad lifter?
It literally looks brand new in there
Heres some more pics.
Any help as always is greatly appreciated