Hello, I have a Black 1984 Cutlass Calais T/tops with a built 425 Olds backed by a th350 with a 8'PTC 4800 stall converter. 62-64 Big Olds 9.3 rear end, 3 rib center section, Richmond 4.10 gears, Strange 35 spline spool and axles, tapered roller bearings, adjustable uppers, Spohn lower arms. Pro-shocks 3 way adjustable shocks.
425 Olds all forged bottom end, A heads ported and milled , Torker intake port matched, Cam Motion solid flat tappet cam 252/260 @.050 .570 lift cam,
20 gallon fuel cell, Pypes exhaust with Hooker headers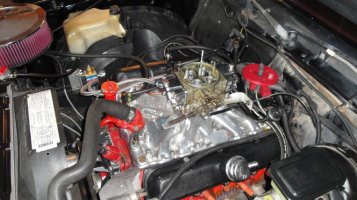 I'll be upgrading to a set of ported Edelbrock heads with a new Torker intake ported to match. I want to be able to use a EFI system because I drive the car to cruise nights more than I take it to the track. I also have a built 200-4r that I'll be switching, just need to figure out what converter to run. I'm upgrading the brakes on the front with the 2wd blazer ones.